Fabrication Services

---
FABRICATING QUALITY PRODUCTS AND BUILDING LASTING RELATIONSHIPS
Gulf Copper Fabrication capabilities include full-service amenities in Port Arthur and Galveston offering our customers distinct advantages. Deep water access, large staging areas, up to 500T crane capacities, docking piers and bulkheads all provide customers alternative potential loading and shipping possibilities for major projects. Currently, we have ISO 9001-2008 Quality Assurance, we are in progress with our ISO 9001-2015. Our control systems and attention to detail provide our customers comfort in knowing they can always expect and receive quality products.
The versatility of our facilities has proven to be beneficial for many recent projects requiring fabrication, staging, and load-out of components. Gulf Copper offers many services including grillage for transport barges/vessels, modular transport staging/planning, sea-fastening design, and stability analysis and installation. In addition, Gulf Copper has crews available to travel, manage or to assist in the installation and/or commissioning for our customers.
CORE VALUES
For over 65 years Gulf Copper and Manufacturing Corporation has provided fabrication services to clients along the Gulf Coast and around the world. Gulf Copper has become the preferred fabricator by consistently adding value through our commitment and dedication to our core values.
• SAFETY
• QUALITY
• DEPENDABILITY
• CAPACITY
• COST-EFFECTIVENESS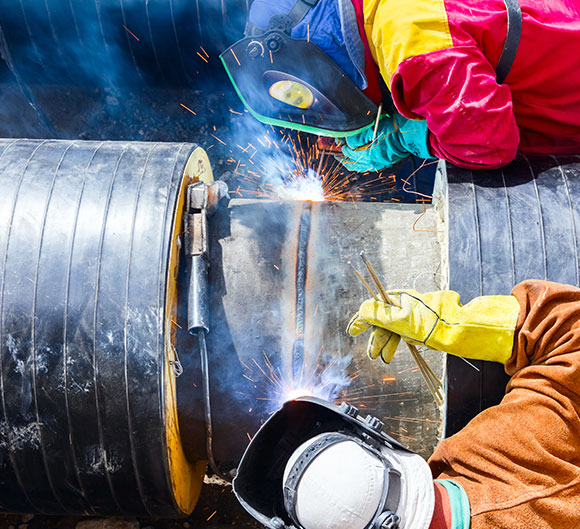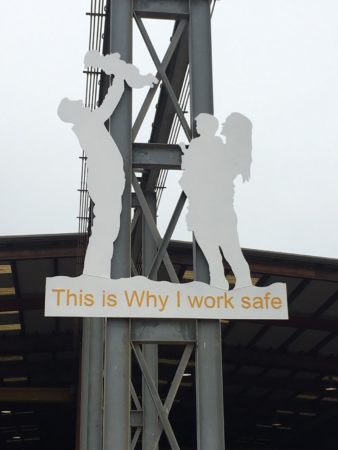 Equipment and Capabilities
23 Acres at the Central Yard
Covered Fabrication Shop Area: approximately 41,000 ft2
CNC Plate Cutting – 12′ X 40′ X 6″ Thickness
(2 ea)
400 ton Plate Press Break
Plate Roll Up to 5/8" Thick
Plate Shear Up to 1/2" Thick
Programmable Sawing Up to 24"
Pipe Bending up to 6" Diameter
Multi Bank Welding Machines, 400 Amps
Multiple Overhead Cranes (Combined 20 Tons)
Submerged Arc Welding Capabilities
Hydrostatic Testing Up to 10,000 PSI
Onsite Blasting and Coating
Rail Material Handling in Between Shops
Open Ended Shop Access for Large Projects
Multiple Yard Cranes (300 Tons combined)
Fully Staffed Machine Shop
FACILITY CERTIFICATIONS
ISO 9001-2008 Certification
ABS, DNV, ASME, AWS, API welding programs
Computerized WPS, PQR and WPQ databases
Staff Metallurgist
In-house NDT
Certified Internal ISO auditors
Equipment and Capacities
CNC Plate Cutting- 12' X 40' X 6" Thickness
(2 ea)
1000 Ton CNC Plate Press Break
CNC Plate Roll Up to 2-3/8" thick
Plate Shear Up to 3/4" Thick
Programmable Sawing Up to 24"
CNC Pipe and Structural Bending and Forming
Multi Bank Welding Machines Up to 400 Amps
Multiple Overhead Cranes (30t Comb. & 75t in High Bay)
Submerged Arc Welding
Semi-Automated Welding
Hydrostatic Testing Up to 10,000 PSI
Onsite Blasting and Coatings
Open Ended Shop for Extra-Large Projects
Multiple Yard Cranes
In House Welding School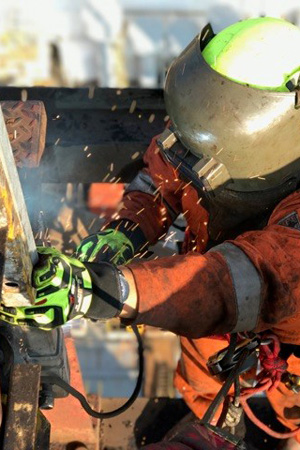 Facility Certifications
ISO 9001-2008 Certification
ABS, DNV, ASME, AWS, API welding programs
Computerized WPS, PQR and WPQ databases
Staff Metallurgist
In-house NDT
Certified Internal ISO auditors