Our Heritage

---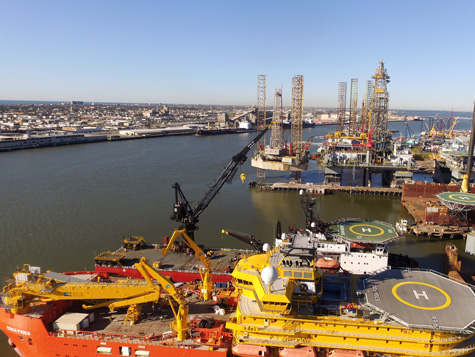 Gulf Copper was founded in 1948 and developed into a successful pipe fabrication company with a reputation for premium quality work installing copper piping on marine vessels. In 1979, the company was acquired by the Gulf Copper Group, and expanded services into full topside ship repair with the addition of a machining division. Over the years, Gulf Copper has continued to diversify, now servicing the commercial marine, offshore, shipping, oil and gas, petrochemical, power generation, construction and transportation industries.
In 1998, Gulf Copper became an employee-owned company, retaining talented personnel skilled in various trades including welders, fitters, machinists, electricians, laborers, and administrative and support staff. Gulf Copper strives to be the preferred provider of marine and industrial fabrication and repair in the markets we serve. Customers include major and independent offshore drilling rig contractors, offshore oil and gas operating and service companies, national oil companies, major commercial ship operators and the United States government and military.
Executive Team

---
Steve Hale
President & CEO
Jonathan Hale
Vice President, Marine
Leonard Hale
Vice President, Energy Services
Pat Guillory
Chief Financial Officer
Emilio Van Dam
Joint Venture Partner
LETTER FROM GC PRESIDENT

---
Gulf Copper is an "Employee Owned" company bringing together some of the finest talent in the marine industry. As owners, we are committed to providing our customers with quality products and services in a timely and cost effective manner.
As a company we encourage our employee owners to become an integral part of a motivated team with common goals and objectives. Through this process, we will meet or exceed our customer's expectations by being a reliable project partner and solutions provider.
Our success is "Customer Driven." We have a strong commitment to Safety, Quality, Integrity and Protection of the Environment. Our customers will receive outstanding service, incorporating unquestioned integrity and professionalism.
As a customer of Gulf Copper, all the available resources of our organization are available to meet your project requirements. We, as owners of Gulf Copper, stand ready to provide you with quality service based upon our three core values: Safety, Quality and Integrity.
This is OUR commitment to you. Let us be a part of YOUR team.
We look forward to the opportunity to be of service on your next project.